First things first - what is a CDP?
A Customer Data Platform (CDP), so far, is a marketing tool that has escaped definition. There are a lot of ideas out there as to what a CDP should be, do, and look like. However, the technology is still young, and we're only beginning to define what a CDP actually is. Here's how Gartner describes a CDP:
"A CDP is a marketing system that unifies a company's customer data from marketing and other channels to enable customer modelling and optimize the timing and targeting of messages and offers."
If that is still too technical for you, maybe this pop-referenced version is better:
"Think of it as a Marie Kondo for your customer data: collecting everything you have, removing excess clutter, and organising it so that it actually makes sense for your business"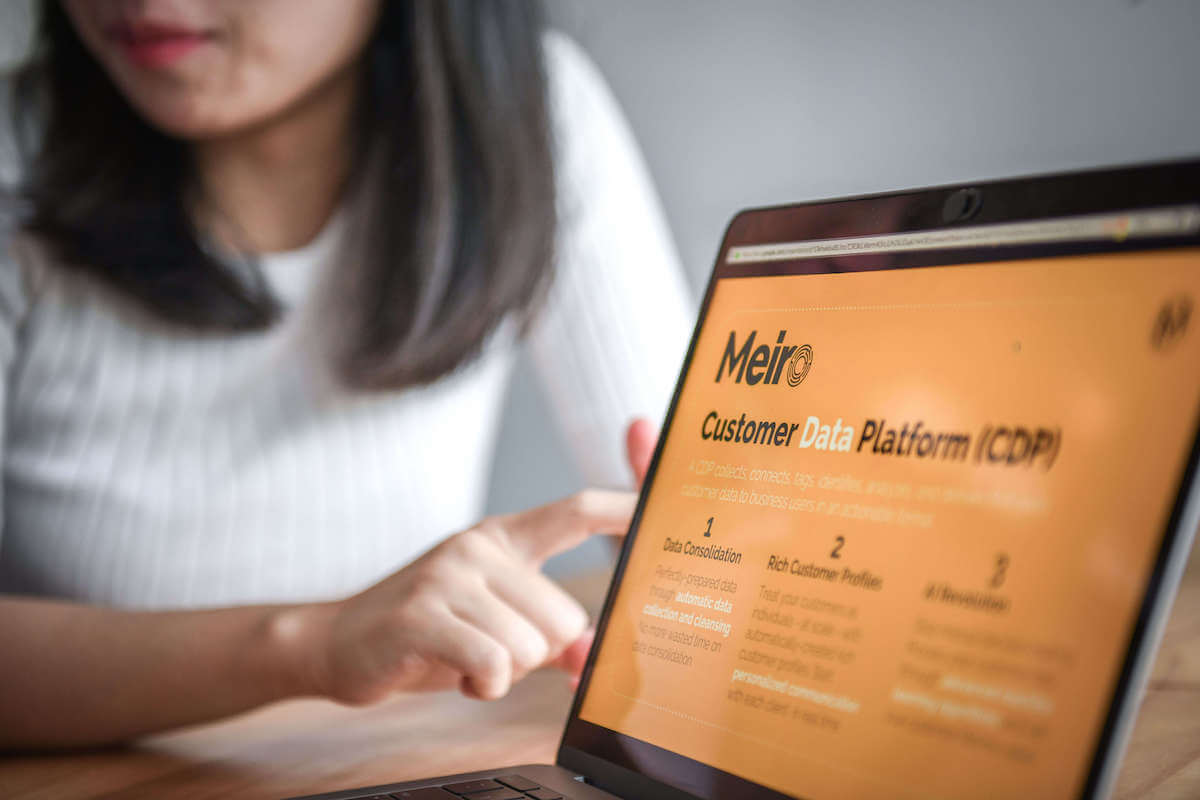 We think that's a pretty good way of describing, in simple terms, what a CDP should do. The key is that you're working with first-party data - email, CRM, online, offline, app engagement, sales, and more of the data you already have (likely siloed off in different systems).
The goal of a CDP is simple: data unification and activation
Tag managers, CRMs, DMPs, and other data platforms are good to great at housing data, but not all data is equal. They also fall short when it comes to getting the insights derived from it to the people and systems that need it. We're not talking about analytics and dashboards, we're talking about actually capitalizing on what all those systems are telling you. As Gartner defines it, a CDP is a marketer-friendly, web-based interface that:
First-party customer data is a complicated thing to collect, connect, tag, identify, analyze, and deliver to business users in an actionable format. But, anything that doesn't do all of these things simply is not a CDP.
The Single Customer View
A crucial element of any CDP is the single customer view. We know that this isn't some kind of new effort, not by a long shot. Businesses know the value of the single customer view, and they've been working to get it done for decades. There are two parts to this problem:
High hopes put on CRM systems which, in reality, are simply databases for transactional data - at best, and tools for managing the activity of salespeople at worst. Either way, they didn't live up to the promise.
The growing landscape of touchpoints where consumers interact with businesses - online, offline, events, social, and so on. It's not easy to catch up - and stay caught up - with fast-changing consumer behavior if you're using legacy technology and a complicated, diverse marketing tech stack that doesn't integrate smoothly.
The single customer view, leveraging fully integrated first-party data - both offline and online - is not an easy problem to solve. But, businesses are finally realizing just how crucial it is to their success.
Focus on CLV
Customer Lifetime Value (CLV) may be the single most important metric in business. With all of your first-party data unified and activated via CDP, focusing on the big picture becomes much easier. Building rich custom audiences based on the full range of your customer data means marketing teams be delivering quality content with the right messages at the right time. With an effective CDP, marketing teams can cater to repeat customers, approach specific segments, and react to trends in real-time.
Ease-of-Use
There are a ton of powerful systems on the market for collating, analyzing, and visualizing data. The whole philosophy behind a CDP is that the front end - the data activation piece - is as easy to use as possible. No more data mining requests to the IT team, no more analysts spending their time with exports - just a simple interface that any non-technical marketer can use. 
What does a CDP solve?
You know what a CDP is, you know the features, but how exactly can a CDP help you? If you don't gain anything, what's the point right? Let's break it down for you. ![Problems Meiro CDP solves]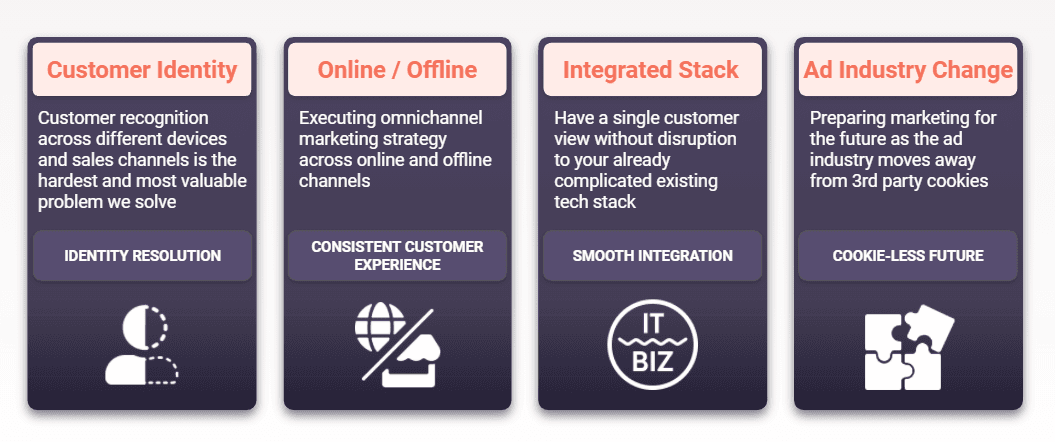 Customer identity
You have customers interacting with your app, customer service, website, ads, and more while doing so from multiple devices. How do you know if it's the same or different customer? Imagine you can create a multi-channel marketing campaign with higher ROI. All because you know how each customer is behaving and how they are influenced by each of your marketing touchpoints.
Online/ offline
Connecting your online & offline experience for your customers can be a pain. With the current condition of unpredictability, it is important brands can synchronize their online and offline plans at the same time customers change their online & offline purchasing behaviour. CDP makes shifting online from offline and vice-versa easy for brands to maintain or improve sales.
Integrated Stack
There are so many technologies and marketing tools out there and new ones are constantly popping up. Some require you to do a huge transition to your existing system to fit it in. Imagine adding a marketing technology that seamlessly integrates with your existing stack without any disruptions. Your life would be so much easier.
Ads industry changes
Unless you're Patrick Star living under a rock, you would know that the Ad industry is going cookieless. This would drastically change everything about how you do marketing and advertising. Even if you have solutions to the earlier problems, this change will make those solutions unreliable. Problems are dynamic and they differ from one company to another. We only highlighted the most common ones but what CDP solves is not only limited to that, there are more use cases for it. The best way to find out is to talk to a CDP expert.
How Meiro stands out as a CDP

We already gave you all that you need to know about CDP, it's only fair that we share how special we are compared to the rest in the market. Because no one can be the best at everything. But someone always does better than the other at something, right? So here's how good we are:
Meiro is a full-stack CDP, which means that it takes care of data integration, cleaning, and management to data activation.
Keep your data fully secure and under your control
Designed for private hosting in the cloud anywhere in the world as well as on-premise.
Connect anything you already use
No need to change the tools you already use, with Meiro's limitless connectivity, it'll fit like a glove. Don't believe us? See it for yourself on the tools we're already connected to on our data integrations page.
Meiro identifies your customers online & offline
Our best-in-class identity management allows a single view of customers or households, which shows detailed behavioral, transactional, and demographic data of your customers.
Brilliant UX
Meiro is so easy to use. Data analysis & audience segmentation is a piece of cake even for non-technical members of your team. Now that you know what a CDP is and why ours is special, why don't you have a look at our version of it and see how it can be the solution that you need.