6 Ways to personalize your push notifications with CDP data insights
3.2.2023
6 min read
In this article, we present 6 best practices for personalizing mobile push notifications like a pro in 2023. Read on to learn how you can utilize data brought to you by Customer Data Platform to craft bespoke and relevant user journeys with mobile app messages.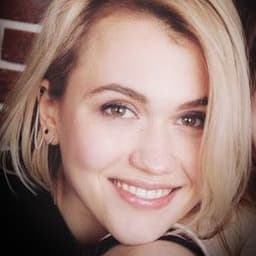 ---
Reflect on your morning and the first moment you picked up your phone today. What was the very first thing you saw? It could have been a new message or email, breaking news, or Black Friday promo code — no matter what it was — what matters is that you have most certainly received it as a mobile push notification. No wonder — push notification is by far the most direct and effective way to communicate with users. Mobile app preference over browsers is staggering – over the last two years, Australians have increased their daily time spent in mobile apps by 50% and Singapore users by 40%. So if your business relies on a mobile app to interact with customers, making use of personalized push notifications to drive your app retention and marketing opportunities is an absolute must.
What are push notifications?
Push notifications are messages the application sends directly to a user's mobile device. We all know them — they appear on lock screens accompanied by alerts, notify us of transactions, new messages, or contain a specific call-to-action. They can be sent as long as the app is installed and the user has opted-in to receive these messages.
Best practices for making the most out of push notifications
Mobile push notifications proved to be a powerful tool for helping developers and marketers engage with their customers. Despite the overall push notification opt-in rate being 60%, when done wrong, push notifications may drive customers to uninstall your app or disable the app's notifications. Naturally, the question is how to create a push notification marketing strategy to drive app users' engagement and retention.
The key to engaging with users in a meaningful and seamless way is personalization — sending relevant and timely messages tailored to your audience's profiles, needs, and activity — a strategy that can be leveraged with data-driven insights and Smart segmentation. Let's get to the best practices for strategizing your push notification marketing without being too spammy, random, or basic.
1. Dynamic content is the key to delivering personal and relevant messages
Personalizing the content of push notifications can facilitate a 4x lift on open rates, so advice #1 is to create familiarity and include the customer's name in your message. Another way to personalize your communication is to tailor the content to the customer's preferences, behavior, transaction history, location, and demographics. Keep in mind that your user's attention span is limited, and if your message does not relate to or stand out among the rest of the home screen clutter, it will likely go unnoticed. And if your message misses the target, that can undermine the user's affinity with your brand.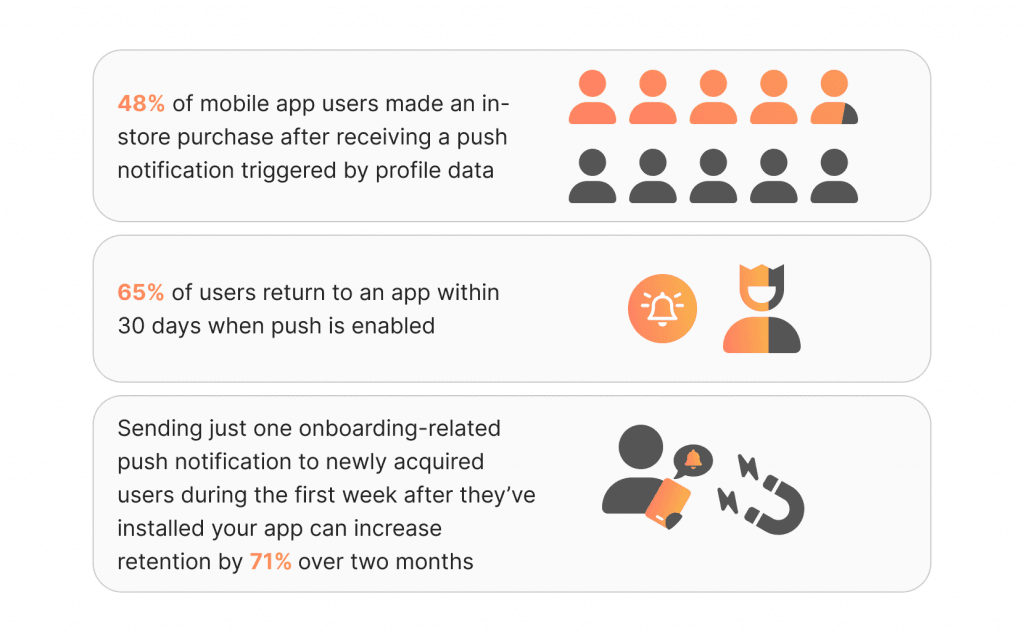 Hence, it makes sense to invest in ways you can gather refined data on your users' activity, which can enhance your chances to anticipate certain behaviors, slice your audience into segments, and leverage these insights in your push notification strategy.
2. Time your push notifications based on users' engagement patterns
It is not enough to accommodate users' time zones. The general rule of thumb is to send pushes around noon. Even though statistically speaking, it is a good rule to follow, for more precision, a better tactic would be to optimize your mobile push delivery to the hours when your customers are most active to catch their attention in the opportune moments. Another point to make in regard to timing — always adjust your delivery schedule to your user's time zones.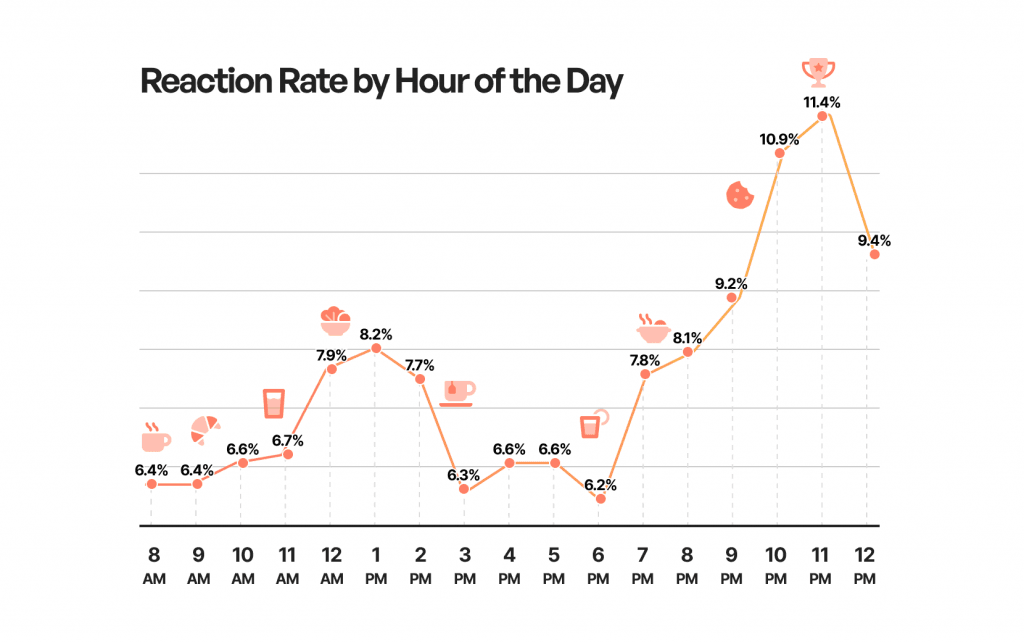 3. Incorporate behavior-based delivery into your strategy
Studies show that sending push notifications based on users' actions yields 800% greater open rates than generic notifications sent immediately. Use the data insights to your advantage and anticipate the user's next steps and needs — tailor your call to action in response to the user's specific behavior. This is a good tactic to prevent your customers from churning and re-engage them. For instance, let Susan know that the cashmere sweater she left in her cart will soon run out of stock, and since Jack has been listening to Drake a lot, he would appreciate you letting him know when the new album is out. Or if your company is a car or hotel-booking service, ping your customer the next time he purchases a flight ticket.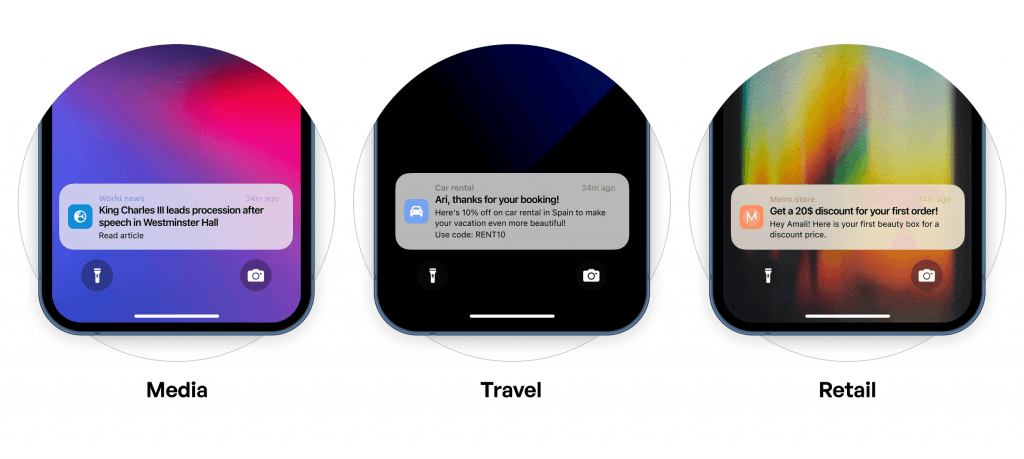 4. Be mindful of the customer's platform
Android and iOS devices substantially differ in user experience associated with the push notification opt-in process and how notifications appear on the screens. But these are not the only things that set the two rival camps apart! Studies show that Android and Apple users are distinct in their personalities, and besides, Apple users, on average, spend three times more money than Android users per transaction. These people belong to different consumer segments, so a good marketer should tailor his messaging accordingly and experiment with personalization techniques to maximize user engagement.
5. Do not push too hard
It is easy to overdo it with the frequency of your notifications. However, there is no one-size-fits-all rule for how often you should reach out to your audience. Every company will have to adjust its strategy according to when it is appropriate for its type of business to engage with the user. For example, retailers may want to be more discrete and settle for sending, on average, two mobile pushes weekly — just enough to gently remind their customers of new deliveries, special offers, and abandoned carts. The banking system, on the contrary, may want to send a push notification to its customer with every transaction.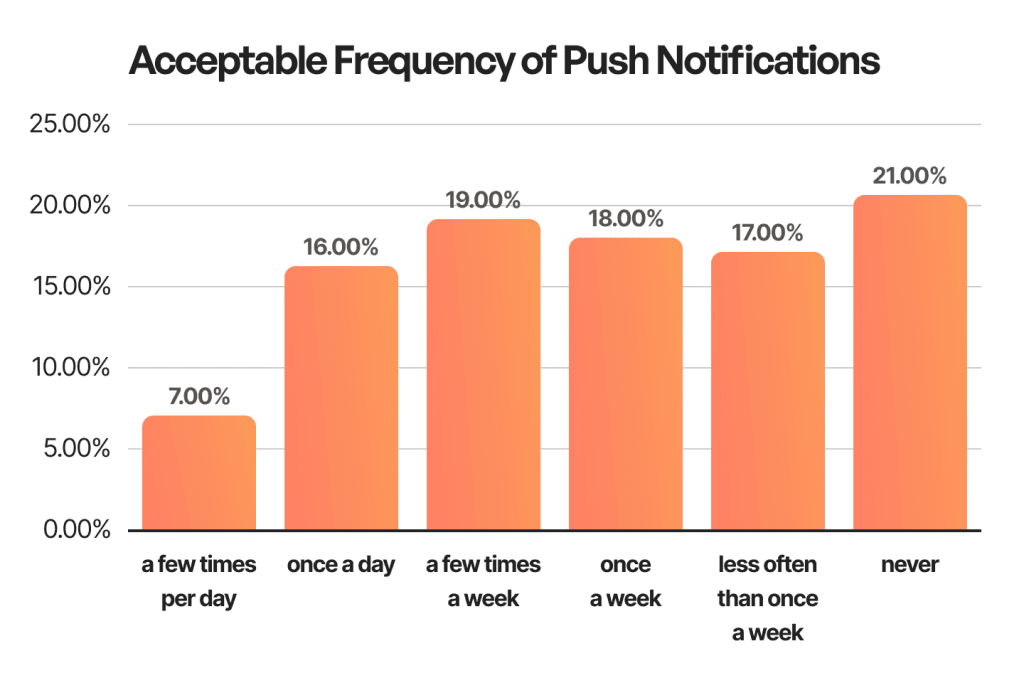 6. Elicit action with your messaging
The marketer's prerogative is to guide the customer to complete the desired action. To create actionable push notifications, Incorporate buttons such as "Shop now" or "Subscribe" into your messages to stimulate the expected response from your users. And then do not disappoint them — make sure the user lands on the right page upon clicking.
How can CDP help to deliver personalized push notifications
Meiro makes it possible to track and utilize 1st party data on your audience to make complex audience segmentation and to communicate with your customers. A myriad of custom-defined attributes helps to deliver precise personalized messaging to the right people at the right time across multiple marketing channels, including mobile push.
Do you want to know more about how Meiro CDP can amp up your push notification marketing or your data strategy? Drop us a line, and let's connect soon.
---
Elina Safargulova
Eli joined Meiro to take care of digital and content marketing satisfying her passion for communications and interest in MarTech and CX. At the same time she studies psychology, loved hiking, and is a proud plant (and cat) mama.
---